Chewing Gum on Central Line



a dictionary-poem (2019)
letterpress print on paper A4, process documentation

The printed poem Chewing Gum on Central Line was displayed at the exhibition Exploded Stories in London 2019.
With thanks to Ian Gabb.
---
A Stone's Throw


a collection of stones connecting people and places through earth material (2017)
made from stones, sterling silver, silk, linen and cotton fibres. printed booklet.


A Stone's Throw was my Degree Collection from the BA Jewellery Design Programme at Central Saint Martins. It was selected for the exhibition Creative Unions at the Lethaby Gallery, and was nominated for the MullenLowe Nova Awards. Works from the collections has been displayed at the Marzee Graduate Show in Nijmegen, at the exhibition Sieraden at Museum Het Valkhof and at the Goldsmith Centre, London.
Thank you to Dan Keys.
---
Tiles for Limburg



interior jewels inspired by the cross-border region of Limburg (2017)
made from charcoal bound in epoxy resin, cherry wood


Tiles for Limburg was the winning design proposal in the Cross Border Design Contest; an initiative by Connect Limburg, Mosa Tiles and MAFAD.
One square meter of the tiles have been exhibited at the LuForm exhibition at Ludwig Forum in Aachen (DE), and at Muze Cultural Centre in Heusden-Zolder (BE).

---
Floralia



a prototype for a 21st century tiara (2016)
based on cherry blossoms and twigs

Floralia was made for the collaboration between Maison Chaumet and Central Saint Martins. The design proposal was awarded Runner Up in the competition and the prototype was displayed at the opening of Chaumet's Imperial Splendours exhibition at the Forbidden CIty, Beijing, 2017.
---
Emergency Necklace



interactive jewellery and packaging (2016)
made from plastic tubing, metal chain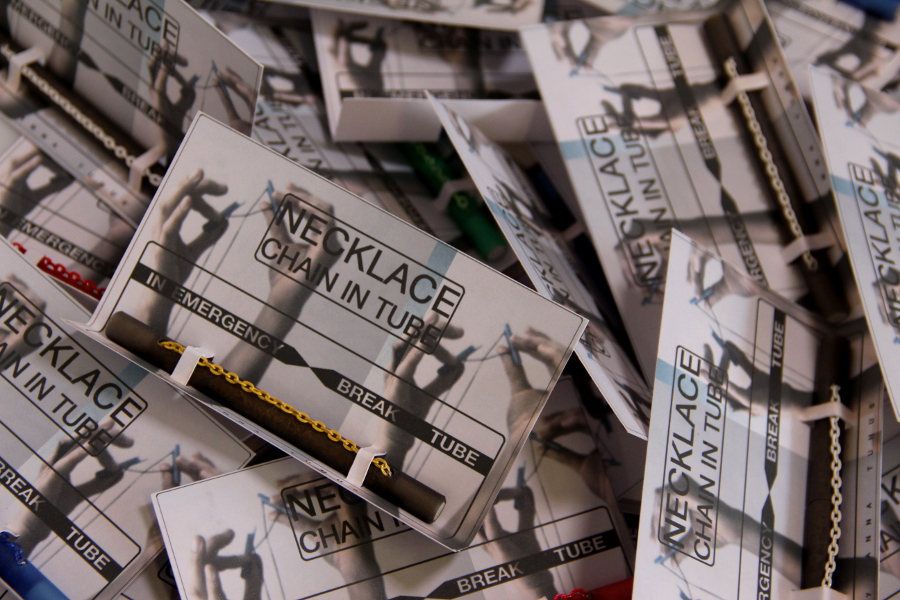 The One Who Wraps Herself collection was on show at Off The Shelf at Vitsoe Showroom, during the Munich Jewellery Week 2017.
---